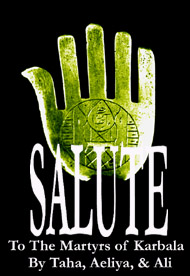 SALUTE
To the Martyrs of Karbala
Narration: Taha Kazim Zaidi
Recitation: Aeliya & Ali Kazim Zaidi
Poets: Mirza Dabeer, Syed Aal-e-Raza, Wazeer Haider,
Our Father Sayed Murtaza Kazim Zaidi,
Our beloved grandfather
(Late) Dr. Syed Manzoor Mahdi
and with heartfelt appreciation to
(Late) Syed Nasir Jahan
Cassette Cover Design: Aeliya Kazim Zaidi
Recording: Signal Sound Studios
Coopersburg, PA USA.
© 1996-2000.

Note: You must have RealPlayer in order to listen to the audio files. To download RealPlayer, please click on the icon below.

SIDE A:
1: Hamd---Tu Hi Bharosa
2: Dil Hai Mayra Vila-e-Payumber Leya Huay
3: Shabeer Ka Dilon Main
4: Kah'aan Kah'aan
5: Ghabra'aygi Zainab
Listen online
SIDE B:
1: Ye Hazrat-e-Abbas Hein
2: Mujh Ko Baaba Sada Do
3: Ghush Khain Ge
4: Bikhray Parre Hein
5: Salaam-e-Aakhir
Listen online




2000 Ó ÛóåÅï æóçÅ îœï«
Created by Ali K. Zaidi
Graphics & Digital Photography by Aeliya K. Zaidi
Copyright Ó 2000. All rights reserved.
Please do not copy any images from this web site without prior permission.